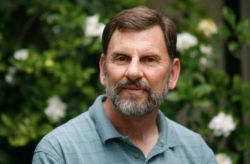 Happy New Year to you and your families. I hope this next year that we continue to make the world a better place through helping our students and clients improve their communication skills which tends to make them happier, more self-confident and more productive members of our society.
I received an email suggesting that I share with you where the SATPAC profits go. In case you were unaware, 100% of SATPAC sale profits are donated and this year I targeted homelessness and food insecurity.
The vast majority of the money went to 3 groups:
Alchemist CDC
Alchemist Community Development Corporation (CDC) is a 501(c)3 nonprofit organization dedicated to supporting Sacramento area residents in their efforts to create vibrant, equitable, healthy and diverse communities. They recently received a USDA Grant to work on the feasibility of a commercial kitchen where local cooks could come and produce their food for commercial sale. http://alchemistcdc.org/
Square One Villages
In Eugene, Oregon, Gib Hayes and his dog Sadie were among the first to receive keys to a tiny home at Emerald Village on December 23rd. The home was designed and built by Arbor South Architecture and a crew of dedicated volunteers. Dubbed "Gib's Digs," this tiny home comes in at 236 square feet-complete with a full bath, kitchenette, sleeping nook, and storage loft.
Prior to this, Gib was living in an unheated RV without plumbing. At age 75, his modest social security check was not enough to afford even the most basic apartment rental. But now for just $350 a month, Gib can afford a permanent place to call home at Emerald Village. This monthly fee covers utilities, maintenance and operating costs, as well as membership share in the housing cooperative that the resident can take with them if and when they decide to move out. https://www.squareonevillages.org/
Dakota EcoGarden
The goal of the Eco Village Project is to provide safe, sanitary, uplifting and dignified housing for the homeless in an environmentally sustainable manner and to provide a holistic environment that gives the mental, emotional and physical tools necessary to escape the endless cycle of homelessness. Completely funded through private donations, the Dakota EcoGarden has been a positive response to Fresno's history of cruel and illegal treatment of the homeless. https://ecovillagefresno.org/
Stephen Sacks
SATPAC Speech
Upcoming workshops: Phoenix Feb.1 and 2. Tentatively scheduled: April 13 in Elk Grove, CA and April 27-28 in So. Cal. More details later at https://satpac.com/sacks-workshops/
Because I want SLPs from all over to use and understand my program, I have a .6 CEU ASHA webinar that is basically the same as my live presentations. Go to the SATPAC website for details. Here is the link: https://satpac.com/workshops/webinar
Looking for professional development for your school district or organization? Contact me steve@satpac.com for details.