November 15, 2018 12:00 am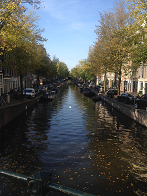 I had a really busy month in October going to Amsterdam, then doing a 2-day presentation in Wiesbaden, Germany for OSACS. This is a group of American SLPs working in schools in Europe servicing the children of US military families. My wife and I did more touring in Germany. I came back, went back to work and made up the days I missed. Being huge Red Sox fans, my son and I had to go to a World Series game in Los Angeles driving there and back home the same day (4 hours each way).
The next day, I had a fever and this continued for 11 days until I went to the Urgent Care and found out I had pneumonia. Looking back, I realized that 1) I'm not as young as I used to be to get away with that kind of lifestyle; and 2) I need to be more thoughtful and intentional about what my limits are.
So because I tried to do everything, I've now missed 3 weeks at my school. Instead of helping my students with their speech and language issues, I've been doing a lot of sleeping and experiencing general lethargy.
The moral of this story is that I realize I need to take care of myself if I'm going to be any good for helping others! I hope this might help you as you contemplate your schedule in the future!
Stephen Sacks
SATPAC Speech
Upcoming presentations are February 7 or 8 in Phoenix, AZ. Here is the link: https://satpac.com/sacks-workshops/
Because I want SLPs from all over to use and understand my program, I have a .6 CEU ASHA webinar that is basically the same as my live presentations. Go to the SATPAC website for details. Here is the link: https://satpac.com/workshops/webinar
Looking for professional development for your school district or organization? Contact me steve@satpac.com for details.