October 1, 2017 12:00 am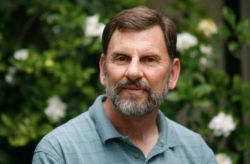 Every couple of years, SATPAC has a big special. The time is now! Instead of $199, SATPAC will be 1/3 off or $133. This includes the program as well as a .6 hr. ASHA CEU webinar on the SATPAC Program and Approach which can be used for CEUs or just for reference. This special will be good for October and November. To receive this special, use the coupon code 1/3 Off .
I begin my fall workshops in October going to Kansas City, St. Louis, Chicago, Minneapolis, Sacramento/Elk Grove and Palo Alto/Los Altos as well as 2 presentations at the ASHA Convention. Check this link for the specifics:
https://satpac.com/sacks-workshops/
I got 2 unsolicited emails this week from SATPAC users. Here they are:
#1
I used your program throughout the day and it worked perfectly! I have an 8 year old boy with a lateral lisp that my director and I can not fix ! Today with your program the little boy and I were able to achieve success using cvvcvvc ( beetseet, etc….) He was very proud of himself and I was so happy for him!

Thank you for developing this fantastic program and I feel fortunate that I was able to learn from you…thank you… ,
#2
I just started using your program after attending your workshop. I have an R student who has made no progress for two years. Using your techniques, he made a perfect R in the first session!!
When I get emails such as these, it really makes my day and inspires me to continue what I'm doing.
And finally, I went to work in a new school district this year. I've spent most of my career working in low income urban schools but have moved out into the country where the population is overwhelmingly Hispanic and low income. What has struck me is how quickly my students are improving! I attribute this to more consistent compliance doing their homework. What I'm seeing is that I'm able to start transferring from the SATPAC non-word lists 1-2 into real phrases and sentences without going through all the lists. What this suggests is that there is some number of correct repetitions needed before the correct motor pattern stabilizes and with these kids doing more home practice, it is happening more quickly.
Stephen Sacks
SATPAC Speech
Because I want SLPs from all over to use and understand my program, I have a .6 CEU ASHA webinar that is basically the same as my live presentations. Go to the SATPAC website for details. Here is the link: https://satpac.com/workshops/webinar
Looking for professional development for your school district or organization? Contact me steve@satpac.com for details.