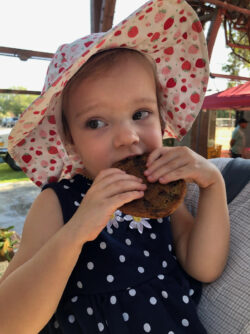 I just received an email from an SLP who works in a district with 17 SLPs. I wrote in a previous newsletter that I would do a free 3-hour webinar on remediating the /s/ and /r/ sounds using the SATPAC Program and Approach but I need at least 50 SLPs to do this. This would be for ASHA CEUs as SATPAC Speech is an ASHA CEU provider.
Contact steve@satpac.com if you or your district are interested in joining with her district for a webinar.
Stephen Sacks
SATPAC Speech
The picture is my granddaughter Abby at 27 months enjoying one of the finer things in life–a chocolate chip cookie at a farmers market!