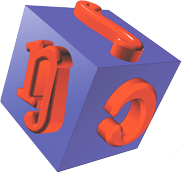 Resources by Pamela Marshalla
SATPAC Speech proudly endorses these quality resources from Pamela Marshalla.
Carryover Techniques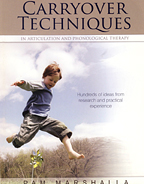 Carryover Techniques in Articulation and Phonological Therapy
by Pamela Marshalla
SATPAC is now offering another fantastic new book from Pamela Marshalla
Carryover is the term that commonly refers to a client's ability to take a speech skill learned in the therapy room and to apply it broadly in all speaking situations. Many speech-language clients acquire this skill almost immediately and without effort, but there are those who do not. A special focus is needed for them.
This book is research-based and practical. It contains therapy ideas to ponder and use during the process of carryover training. The text contains an integration of ideas from five sources:
Published research reports,
Modern textbooks on articulation and phonology,
Historical textbooks on articulation therapy,
The author's three decades of clinical experience, and
Games and activities contributed by hundreds of professional speech-language pathologists.
Contents of this book:
Chapter 1. What is Carryover?
Chapter 2. Research Studies on Generalization and Carryover
Chapter 3. Managing the Carryover Process
Chapter 4. Self-Monitoring for Carryover
Chapter 5. Speech Production Activities for Carryover
Chapter 6. The Role of Behavior Modification in Carryover
Chapter 7. Conversational Speech in the Carryover Process
Chapter 8. Personality, Emotion, and Attitude in Carryover
Chapter 9. Games and Activities to Promote Carryover
Successful R Therapy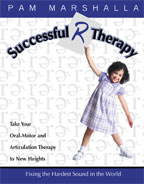 Fixing the Hardest Sound in the World
by Pamela Marshalla
SATPAC is now offering Pamela Marshalla's fantastic new book Successful R Therapy.

Take your oral-motor therapy to new heights with the most amazing book on R therapy that has ever been written. Pam is an expert on R therapy and this book is based on her highly successful workshop entitled Successful R Therapy. In it Pam discusses everything from facilitating a correct R sound to managing adolescents who are unwilling to attend therapy. It perfectly combines methods from oral-motor and traditional articulation therapy. It is appropriate for both the professional and student speech-language pathologist.

Contents of this book:
Chapter 1. The Incredible R
Chapter 2. Understanding the Problem
Chapter 3. Assessing the Details
Chapter 4. Achieving the Impossible
Chapter 5. Listening and Learning
Chapter 6. Seeing It Clearly
Chapter 7. Positioning the Tongue for a Tip R
Chapter 8. Positioning the Tongue for a Back R
Chapter 9. Locking in on the Cornerstone R
Chapter 10. Building the On-Glide and Off-Glide Repertoire
Chapter 11. Adapting to New Sensations
Chapter 12. Capturing the Client's Attention
Chapter 13. Preparing Supportive Skills
Frontal Lisp, Lateral Lisp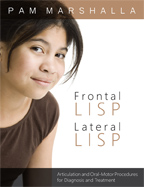 Articulation and Oral-motor Procedures for Diagnosis and Treatment
by Pamela Marshalla
SATPAC is now offering another fantastic new book from Pamela Marshalla

A dynamic discussion of the lisps, the first to combine methods from traditional articulation and oral-motor therapy for both diagnostic and treatment procedures. This material is practical, comprehensive and insightful. It is based on thirty years of direct therapy experience with the frontal and lateral lisps in a wide variety of clients. Professional and student speech-language pathologists alike will find a fresh perspective and a wealth of information here. Appropriate for clients two years of age and above. Can be used as supplimental reading material in courses on articulation. A great addition to a professional or university library.
Learn how to treat even the most difficult lisps
Gain a full perspective of normal sibilant production
Learn to diagnose direction of airflow
Shorten therapy time with effective techniques
Discover how to combine articulation and oral-motor therapy
Learn to motivate clients and commit them to therapy
Create an environment for effective carryover
Develop effective entrance and exit criteria
Contents of this book:
Chapter 1. The Phonemes
Chapter 2. Oral Position for Sibilant Production
Chapter 3. Deep Analysis of the Frontal Lisp
Chapter 4. Deep Analysis of the Lateral Lisp
Chapter 5. Developmental Considerations in Sibilant Remediation
Chapter 6. The "Long T" Method
Chapter 7. The Cornerstone Approach
Chapter 8. Onward to the Other Sibilants
Chapter 9. Remediation Specific to the Frontal Lisp
Chapter 10. Remediation Specific to the Lateral Lisp
Chapter 11. Auditory Training Through the Program
Chapter 12. Oral Habits, Oral Structure, Oral Rest and Swallowing
Chapter 13. Achieving Carryover
Chapter 14. Real Clients in Real Therapy